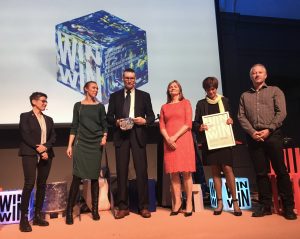 On October 24th the prestigious sustainability award, Win Win Gothenburg Sustainability Award, was handed over to Kalundborg Symbiosis. The price was presented by Ann-Sofie Hermansson, the mayor of Gothenburg, at a large ceremonial event at Auktionsverket. Jury member Emma Dalväg reasoned the award by telling that Kalundborg Symbiosis has inspired industrial clusters all over the world to contribute to more sustainable solutions.
Charman Michael Hallgren from Novo Nordisk recieved the prize with board member Jofrid Klokkehaug, while Lisbeth Randers and Per Møller represented the secretariat.
Read the press release here. .
Read more on the reason for recieving this award.
Below you will find a small video from the ceremony: