Excess heat from cooling of industrial production in Kalundborg can be converted into sustainable district heating in the future. Enough excess heat is generated from the local industry to potentially heat more than 40,000 households. The announcement by Kalundborg Utility, Novo Nordisk, and Novozymes of an investment of DKK 1.4 billion in a new district cooling system in Kalundborg ignites realization of the ambition. This will make it possible to collect and use the excess heat. With the right infrastructure in place, the new district cooling system will generate enough excess heat to potentially replace natural gas in Holbæk and warm up the city of Kalundborg.
Kalundborg Symbiosis has therefore initiated a project aiming for utilization of excess heat from the production for heating households in Northwest Zealand. For the heat to reach the households that need it, the supply network in the Kalundborg area must be connected to a larger district heating network.  
Sustainable district heating for Denmark's largest natural gas city
Holbæk Municipality, Denmark's largest natural gas city, has been invited to join the collaboration. The parties now jointly plan to link the industry's need for cooling and the resulting excess heat with the need for sustainable district heating. The coupling will take place across public and private partners and will create a robust and sustainable solution that reduces the consumption of fossil energy for heating. Finally, the project has the advantage that it can be established in stages and expanded modularly when opportunities arise and/or the need increases. 
Denmark's largest sector integration project
"Our common ambition to utilize excess heat from the industry creates potential for green transition, increased security of supply, and resource optimization across sectors, municipal boundaries, and industries. Therefore, Kalundborg Symbiosis is working very hard to realize the project as soon as possible. It is a very dedicated circle of public and private parties who are behind it", says chairman of Kalundborg Symbiosis Michael Hallgren, who is also senior vice president at Novo Nordisk Manufacturing in Kalundborg. 
"Together we can create a model for sector integration that promotes green transition and independence from natural gas. At the same time, Denmark will be put on the map as the home of urban-industrial symbiosis", says Michael Hallgren and concludes: "The project will be the largest sector integration project in Denmark".

Significant environmental impacts
Jesper Haugaard, vice chairman of Kalundborg Symbiosis and vice president responsible for Novozymes production, is pleased with the great potential: "It will have significant environmental effects to utilize the excess heat from the industry in Kalundborg. Today, the excess heat from our production in Kalundborg is not utilized, as we have not had the opportunity to collect it. With the establishment of the new district cooling system, which will supply district cooling to our and Novo Nordisk factories in Kalundborg, we will have the opportunity to collect the excess heat. Via a heat pump, the excess heat can then be converted into district heating, which can replace, for example, natural gas or district heating produced from fossil sources. It is an exciting and ambitious project that fits well into our mindset in Kalundborg Symbiosis, where we utilize each other's waste and residual fractions as resources across the industry".
Sector integration, where residue or surplus from industry can be used as a resource in the local community, make good sense in a municipality where collaboration is a natural way to solve challenges.
Circular thinking the norm in Kalundborg
Mayor Martin Damm, Kalundborg Municipality, says: "In Kalundborg, we have 50 years of experience in thinking sustainability and circularity into our supply flows. Therefore, it is also quite natural to think of the excess heat as part of the heat supply. It is also natural to invite Holbæk to become part of the solution. On the one hand, there is a clear need in Holbæk Municipality for more sustainable heating – and on the other hand, the entire circular mindset has also become a natural part of the way we think about cooperation in Kalundborg Municipality."   
An amazing and awaited idea
The neighboring municipality of Holbæk is also enthusiastic about the project: "The ambition to utilize excess heat from Kalundborg is a fantastic idea. We have 17,500 households in Holbæk Municipality that are heated with natural gas. So, it is both a benefit for the climate if we can get a green heating solution for Holbæk Municipality, and for those of our citizens who in the long term can replace their natural gas and oil boilers with district heating," says Christina Krzyrosiak Hansen, Mayor of Holbæk Municipality. 
Kalundborg Symbiosis is dedicated to getting the project realized as soon as possible, not least in light of the current energy crisis. Work is also underway to involve other partners in the Symbiosis so that the district cooling system can be expanded to include more production areas in Kalundborg. In this way, even more excess heat can be collected, which can contribute to the green transition from natural gas.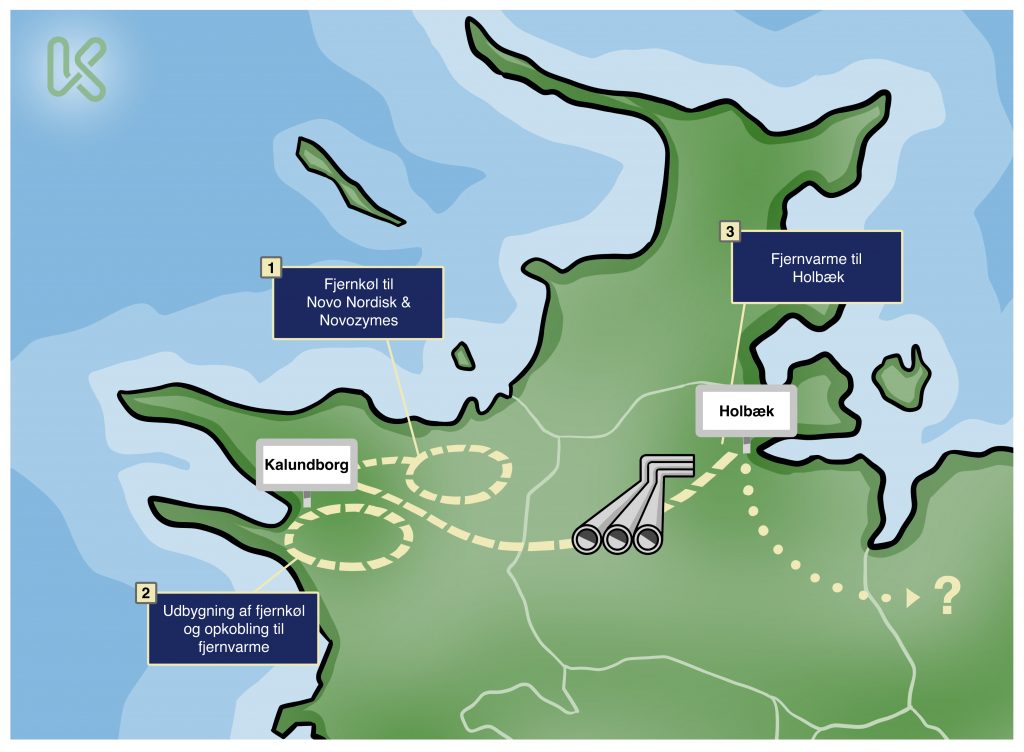 Explanation of illustration / status of work  
Phase 1: The decision on the establishment of district cooling for the joint production site of Novo Nordisk and Novozymes in Kalundborg was made in October 2022, as stated in a press release October 24. District cooling is a prerequisite for collecting excess heat from the factories involved.   
Phase 2: Dialogue on expansion and involvement of more partners in Kalundborg Symbiosis is ongoing.  
Phase 3: Collaboration between Holbæk and Kalundborg Municipalities on the utilization of excess heat has been established.  
Press contact 
Novo Nordisk: Director, Communications, Stine Gry Roland, email stgp@novonordisk.com or phone 30750567 
Novozymes: Press Officer, Lina Danstrup, phone 30770552 
Kalundborg Utility: Press and Communications Officer, William Ejsing, phone 25548385. 
Kalundborg Municipality: Jan Lysgaard Thomsen: email jalt@kalundborg.dk
Holbæk Kommune: Mayor Christina Krzyrosiak Hansen, email borgmester@holb.dk, press phone 7236 3448
Kalundborg Symbiose: Head of Secretariat Lisbeth Randers, email lirs@kalundborg.dk or phone 51602635